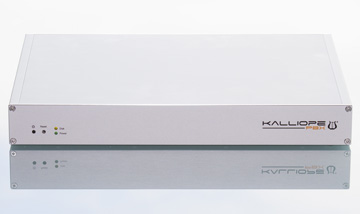 KalliopePBX V4R and V4R+ are high-profile solutions designed for large enterprises and public administration that offer unlimited extensions and guarantee up to 120 concurrent calls.
In line with the Kalliope philosophy, Rackmount models have no limitation on the number of channels, extensions, or other services, providing the customer with maximum flexibility in system configuration and management.
The smaller models, KalliopePBX V4R and V4R+, rely on powerful fanless hardware with a Quad-Core 1,6 GHz CPU.
KalliopePBX V4R+
The 'Plus' model, equipped with more RAM and SSD, will be the only hardware model to support multi-tenancy (i.e. the ability to provide PBX services to multiple customers using a single device). Multi-tenant services will be available, by purchasing a specific license, within the first months of 2016.