KALLIOPE
CTI
CTI technology lets you integrate your telephone system with your computer system, helping you optimize your business processes. KalliopeCTI is our answer to this demand.
KalliopeCTI (available in Free, Pro, and Phone version) is a cross-platform application on Windows, Mac OS X, and Ubuntu that lets you easily access all of KalliopePBX's most commonly used features, such as the shared and personal phonebooks and the call detail record, along with a handy click-to-call service.
Among other features, KalliopeCTI can perform automatic actions (such as opening a specific web page) upon receiving, answering, or ending a phone call. These actions can be dynamically customized based on parameters such as the calling number or its corresponding contact.
KalliopeCTI Pro, when paired with a Snom or Yealink phone, also lets you remotely control the device by using the native APIs.
KalliopeCTI Phone adds a SIP engine to the application's features, offering a complete, self-configured softphone solution designed to best take advantage of KalliopePBX's services.
FEATURES
Click to call
Automatic actions on incoming calls
Quick access to phonebooks and CDR
Microsoft Outlook contact sync
Phone remote control
Available in softphone version
Multi-platform software
Instant Messaging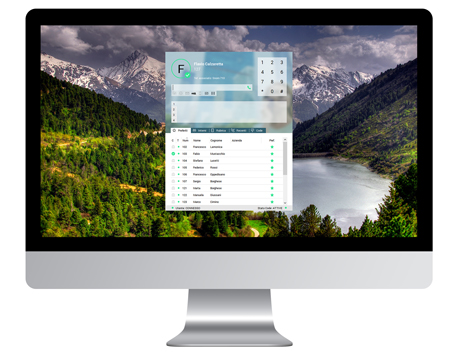 ---
APP
KCTI MOBILE

The KalliopeCTI mobile app (available for Android and iOS) lets you access the most important features offered by KalliopeCTI Pro so you can take your workstation along with you.
With KalliopeCTI Mobile you can make calls as if you were sitting comfortably at your desk; the called party's phone will display your office number, letting you keep your personal mobile private and using the company phone line. The call quality will be the same as a normal mobile phone call and you will not incur additional costs on your mobile contract.
Similarly, the app can notify you in real time whenever you receive a direct call to your extension, so you can choose to let KalliopePBX forward the call to your mobile.
The app also includes a chat service to keep in contact with other KalliopeCTI users, both on mobile and on desktop. Chat conversation are synced between mobile and PC, in order to maintain chat logs.
---
KALLIOPE
ATTENDANT CONSOLE
Kalliope Attendant Console, available for Windows, incorporates features specially designed for phone operators to KalliopeCTI's usual functionality.
It is optimized for touchscreen devices and lets you easily manage inbound calls, providing classification in real time.
With Kalliope Attendant Console, you can:
• Classify inbound calls based on origin (from a queue, direct external call, local call, returning transferred call).
• Select which calls to answer.
• Use a full set of shortcuts to speed up tasks.
• Easily forward and put calls on hold with drag & drop.
Kalliope Attendant Console is available both in softphone mode, with an integrated SIP client, and in CTI mode, exclusively when linked to a Snom or Yealink phone.
FEATURES
Immediately view queued calls
Easyly select which calls to answer
Simple drag&drop call forwarding
BLF status monitoring
Optimized for touchscreens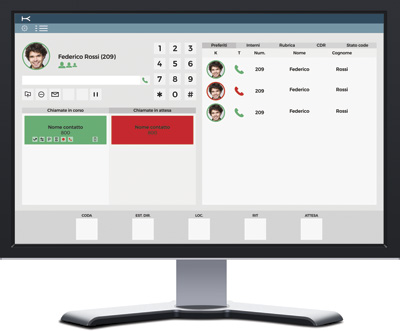 ---