The PBX as a service
Cloud PBXs often entail more limitations than on-premise solutions. Kalliope4SP aims to eliminate this gap by offering completeness and multitenancy without compromising on quality of service, optimizing the use of hardware. Kalliope4SP is the ideal solution for small and medium service providers that are looking for a platform for distributing a Virtual PBX service. Kalliope4SP shares all the features and strength of KalliopePBX and, thanks to its multitenant architecture and a single centralized interface, guarantees maximum simplicity and automation of the Virtual PBX deployment processes. The Kalliope4SP solution is comprised of a single multi-tenant instance managed only by the system administrator, who can create new Virtual PBXs and manage the inbound and outbound lines in a few simple steps. The end clients can access their tenant through a web browser and manage their telephone services with full autonomy, just as they would with an on-premise PBX.
Think global, act local
Kalliope4SP aims to be a powerful tool to help our partners reach markets that are harder to access. Kalliope as a service is ideal for small businesses, which rarely invest in on-premise solutions, as well as for large enterprises, which more and more are moving their services to cloud. Limited initial investment, low maintenance costs, and minimal hardware requirements increase the competitiveness of service providers in any scenario. Kalliope4SP lets small and medium service providers offer a carrier grade service without incurring prohibitive costs.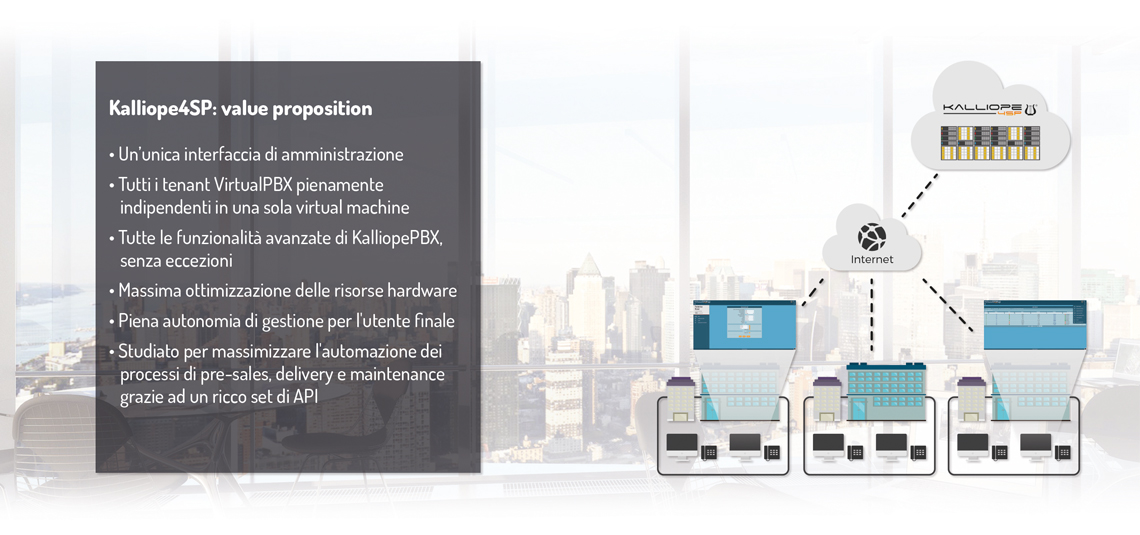 Up to 12 months POC
In order to launch the new Kalliope4SP onto the market, we have created two unlimited Kalliope PBX Virtual Machine multitenant license designed to guarantee our partners the best conditions for making sales. For a one-time fee, you can personally evaluate the technological, technical, management and technological lock-in advantages for 3 or 12 months. Service providers that adopt this full service solution will incur no additional costs and will be able to rely on phone customer support, firmware updates, training, and a completely rebrandable platform. Furthermore, the Starter Kit includes all additional client applications: KalliopeCTI, KalliopePhone, KalliopeCTI mobile, Kalliope Attendant Console, and Kalliope Call Center.
Included in the POC:
Unlimited KalliopePBX VM license
Unlimited multitenant license
Firmware updates
Phone customer support
Training and certification
Co-branding
Clients
Find out more about Kalliope4SP